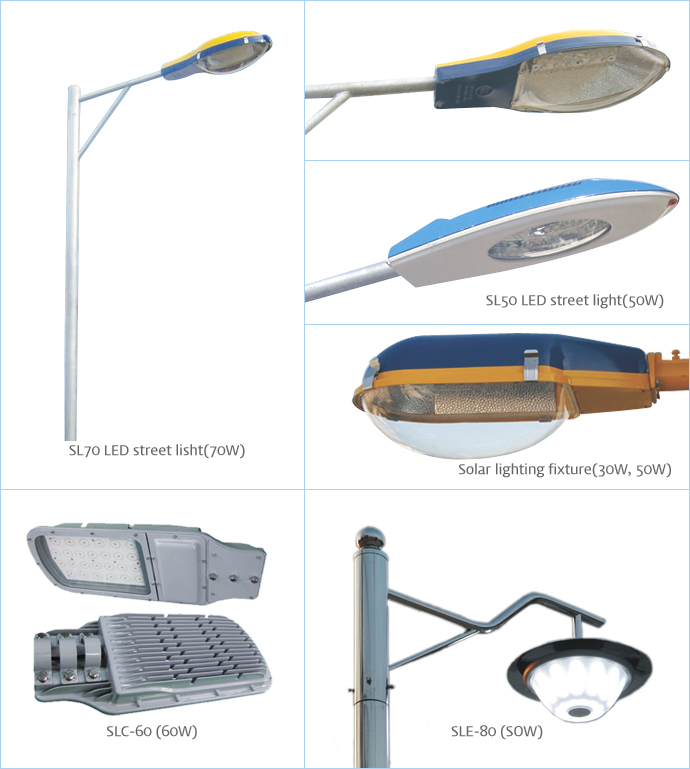 The maximum cooling efficiency by using of special designed Aluminum heat-sink block.
This is low power consumption and high efficiency product so guarantee the great energy saving effect.
This is eco-friendly product without mercury and any toxic gas material by using of the next generation light LED.
Keep over 90% efficiency product
Secure product stability for making of protection circuit for over current, over voltage, over temperature and short
Observe world safety regulation for lighting with high reliability.
No need the special heat-proof plat and 3.1kg light weight to compare with the existing LED light.
It has ventilation hole in the middle and make the structure of self heat-proof through air dynamic convection curent phenomenon
It has 360˚degree phototropism structure by many sides luminous techniques.

"Speclfication"

| Model No. | SL50(50W) | SL70(70W) |
| --- | --- | --- |
| Lighting fixture | 865 x 360 (mm) | 957 * 440 (mm) |
| Lamp | 50W(LED5W * 16pcs) | 70W(LED5W x 20pcs) |
| Pole material | Steel, stainless | Stee,l stainless |
| Pole size | ∮114 x 6000 (mm) | ∮114 x 6000 (mm) |
| In-put Voltage | 100~260V, 50~60Hz | 100~260V, 50~60Hz |
| Beam angle | 120deg | 120deg |
| Luminous efficacy | 70(lm/W) | 70(lm/W) |
| Life time(hrs) | 50,000 | 50,000 |
"Speclfication

| Model No. | SLC-60 | SLE-80 |
| --- | --- | --- |
| Size(mm) | 575X240X60 | ∮380X142.5 |
| Weight(kg) | 8.2kg | 3.1kg |
| Input voltage(V) | 90-265 | 100~240 |
| Luminous flux(lm) | 5,400 | 6,950 |
| Efficiency (lm/W) | 90 | 85~91 |
| Beam angle | 130˚ | 180˚ |
| Color temper (K) | 4,500~7,500 | 4,500~8,300 |
| Color renderig | 75 | 75 |
| IP class 방수등급 | IP65 | IP65 |
| Life time 수명(hr) | 30,000~50,000 | 30,000~50,000 |
| Working temper | -30℃~60℃ | -30℃~60℃ |
| Power consumption | 60 | 80 |
| Material | Aluminum | Aluminum |