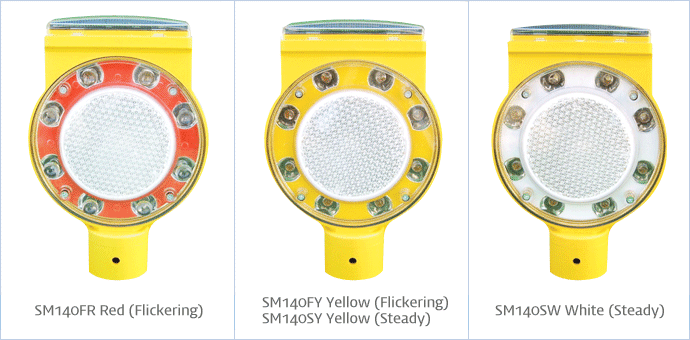 Solar delineator

| Division | Size |
| --- | --- |
| Body | ∮170 x 250 x 50(mm) |
| L.E.D | 10,000mcd x 8ea |
| Post assembly part | ∮48, ∮55, ∮60 |
| Steady type | (Color - Yellow, White) LED keeps the light on continuously |
| Flickering type | (Color - Red, Yellow) LED keeps the light flickering continuously |

It is green growing product by using solar energy and clean environment item and exactly correspond to Government green project.
It does not need the electric power so very simple for installation and movement.
It is equipped with automatic sensor so it is dark under the normal luminous lntensity the light on and it is morning dawn over the normal luminous lntensity, the light out automatically.

The existing delineator is not so good for the visibility in the rainy day or fogging day and
it is also nt possible to distinguish on the long distance in the noraml weather condition but
this product can cover all these matters and makes excellent radiation and great visibility so
recommend to install this solar delineator in stead of the existing delineator installation area of the road.
The location of installation is the dangerous curved sector or tunnel or bridge or in the great occurrence area of fog.

Specitication

| Model No. | SM140SY / SM140SW | SM140FR / SM140FY |
| --- | --- | --- |
| Size dimension | ∮170 x 250 x 50mm / Reflector :∮100mm | ∮170 x 250 x 50mm / Reflector :∮100mm |
| Bright type | Steady | Flickering |
| LED | ∮10: 8ea x 10,000mcd | ∮10: 8ea x 10,000mcd |
| Battery | 1.2V x 4,000mA (1EA) | 1.2V x 4,000mA (1EA) |
| Solar cell (124 x 45) | 2.5V x 240mA (0.6W) | 2.5V x 240mA (0.6W) |
| Discharge amount | 15mA/hr | 12mA/hr |
| Working time | 60hr(5days) | 72hr(6days) |
| Material | P.P / P.C | P.P / P.C |